Woven Green is the musical vision of multi-instrumentalist husband and wife duo, Jim Cash and Ashley Cash. The couple creates songs and soundscapes that are transportive and cathartic, and have "an undeniable healing effect on body, mind, and soul"(Indie Music Discovery). Woven Green's music invites listeners to journey into something deeper – a connection, a remembrance, and an inspirational experience.
History
Jim and Ashley met in the summer of 2002 while students at George Mason University in Fairfax, Virginia. They were immediately drawn to each other as a creative and dynamic partnership in music, life, and love. As a team, they embarked upon a path to use their gifts and talents to bring their musical visions to life.
They both graduated from college in 2003 with B.A. degrees in Cultural Anthropology. Their studies focused on ethnomusicology, folklore, mythology, and philosophy. Jim and Ashley were Married In 2005, at a beautiful ceremony in the mountains of Blowing Rock, North Carolina.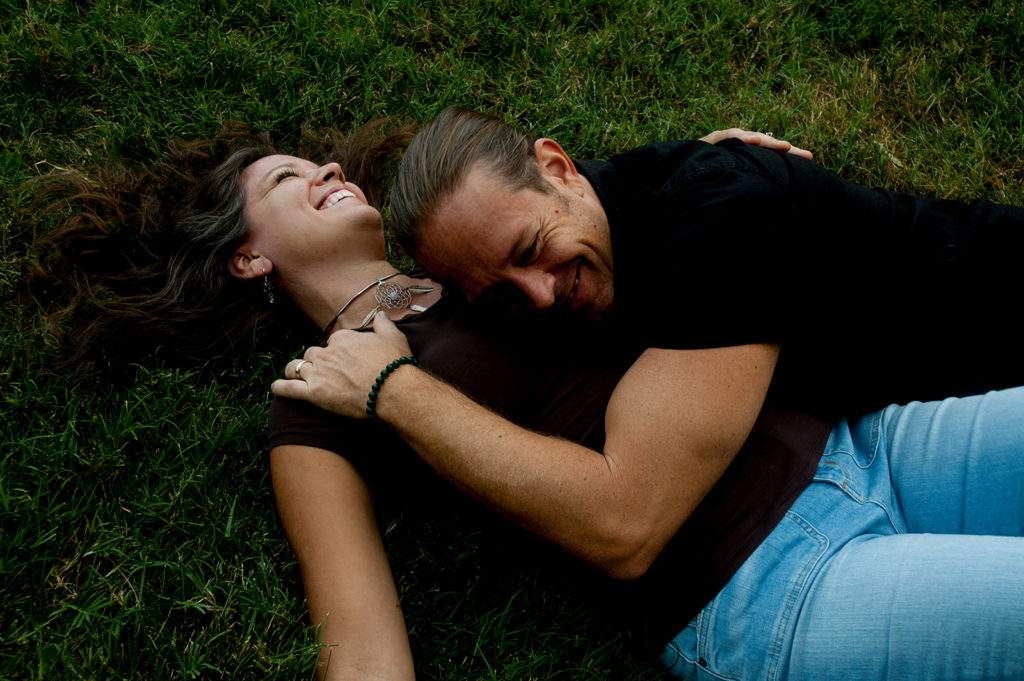 While they were planning their wedding, they were also laying the groundwork for their private music instruction business called Potomac Falls Music, which they still own and operate. At the same time Jim and Ashley were developing their musical creations and honing-in on their craft as multi-instrumentalists. Jim had been amassing a collection of songs that he had written before he and Ashley met. So the couple set to work developing the songs as a duo and later an ensemble. Eventually recording their first EP, Jim & Ashley Cash & Friends in 2006.
A few years down the road Jim and Ashley officially adopted the name, Woven Green. They toured the East coast as a 4-piece band with the addition of drum kit and bass players, often featuring special guest musicians on violin, saxophone, and world percussion. Next, they released their EP, Woven Green in November of 2009. The EP was nominated for a Washington Area Music Award ("WAMMIE") in the pop-rock category. Woven Green's EP was also awarded first prize for the Relix Magazine Jam Off Competition for their song "Sixth Sun" and was featured on the Relix CD sampler in the November 2010 issue. Woven Green also released 2 live albums in this time period. The Blue Light Sessions Live and Live at the Tally Ho Theater.
Jim and Ashley then went on to explore their musical versatility and creative musings through the development of their long form instrumental music called, Woven Green Soundscapes. They released their first self-produced ambient instrumental music album called, Woven Green Soundscapes in June of 2015. Around this time, they began hosting their Soundscapes live events. These events provided an opportunity for Jim and Ashley to open-up their sound into live exploratory improvisations. Learning to wield their craft in a live context beyond performance and offering their audiences an free form musical journey.
During this time, they were also writing new material and recording their first full-length album of songs. In January of 2017, Jim and Ashley released their first full-length album, Woven Green Into Bloom, where they teamed up with Producer Emeritus and 13-time WAMA producer of the year Marco Delmar of Recording Arts in Arlington, Virginia. Multiple songs off Into Bloom have received awards and praise, noticed among the Empower Music Awards, Posi Music Awards, and Woodsounds flutes. The album has received stellar reviews and has been described as "thrilling, electrifying, dynamic, and inspirational" (The Ratings Game). Songs from Into Bloom have been on rotation at a growing number of College and Independent radio stations across the US and Canada. The album has been licensed for use on major TV networks such as the Discovery Channel and TLC among others.
While Into Bloom was gaining momentum, so was Woven Green Soundscapes live events and Woven Green Soundscapes recorded albums. Jim and Ashley continued to pour out Soundscapes albums, while they honed-in on their skills as audio engineers and producers of their craft. In 2018 they released their album, The Great Return and in 2019 The 7th Gate. During this time, they also co-hosted an FM Radio Program Called Music Alley Radio 96.7FM Arlington Independent Media.
Since their partnership began, Jim and Ashley have released a collection of 2 EPs, 2 live albums, and 4 fan-funded albums of official releases. Jim and Ashley's Woven Green has headlined and been featured at many festivals, theaters, and venues, throughout the Mid-Atlantic region. They have hosted private concerts and retreats both nationally and internationally.
Jim and Ashley are currently creating new music with plans for new releases in 2023!