Woven Green Soundscapes Albums
Woven Green has released 3 albums of Soundscape music that is designed for meditative use, Soundscapes (2015), The Great Return (2018), and The 7th Gate (2019) Soundscape tracks tend to be 10-25 minutes long and include dynamic musical journeys which range from deeply relaxing and restorative to activating and uplifting – a tapestry of soothing melodies, ambient ethereal vocals, Native American style flutes, acoustic and electric guitars, also the gentle rhythms of world percussion, and the meditative tones of crystal and Tibetan singing bowls.
The Woven Green Soundscapes Live Experience
Woven Green Soundscapes – A meditative journey through the power of sound
Woven Green Soundscapes are designed to guide listeners upon a journey through their own inner worlds as the music gently guides their experience.
The couple "crafts a gorgeous colorful realm" as they weave organic acoustic instrumentation with electronic soundscapes that feature otherworldly vocals, ambient guitars, Native American style flutes, crystal and Tibetan singing bowls, and world percussion.
Woven Green Soundscapes events are typically 60-90 minutes long.  Participants are often invited to bring a floor mat and blanket to have the option to sit or lay in meditation or simply a relaxing position.  Audiences report profound transcendental experiences, enhanced inner vision, and stress relief.
"When we gather in this way and share these sounds, we create a shared space of peace and resonance that the world needs right now. We all feel the need for connection and a return to a feeling of equilibrium. We believe that music is truly a universal language and our soundscapes are an assist to gently drift into the universal mythic landscape of dream, mystery, and magic!"

-Woven Green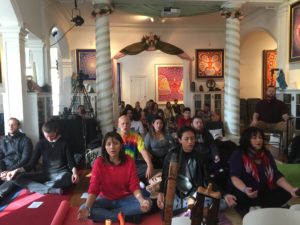 Testimonials
"There is a beautiful spirit that hovers above the room when you play. It's like a sentient prayer overseeing the hearts of those in the room so that we may take your message out into the world. Thank you." – Anonymous
"Want to go to a peaceful, dream-like space? Do not miss a chance to see Woven Green in person! My gratitude and joy have been refilled! Many Thanks!" – Anonymous

"Gorgeous music! Positively transporting! I feel so relaxed and nourished from the concert. Can't wait till the CD comes out!" – Anonymous

"The flute music is my favorite. I find myself floating over the desert somewhere – all the while I am leaving my stress and anxiety behind, lost forever. I do feel lighter, better and brighter inside. Thank you. Thank you. Thank you." – Lisa Portillo

"So incredibly beautiful I didn't want it to end and I can't wait to do it again with you." -Connee Chandler