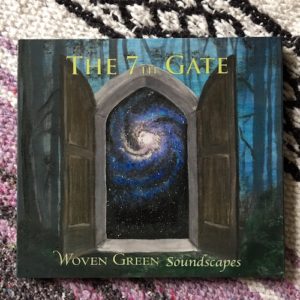 The 7thGate is a musical odyssey, a multidimensional shamanic experience, and an energetic activation of the 7 chakras (energy centers within the body). Tracks incorporate the resonant frequencies of each corresponding chakra.  Binaural frequencies, vocal toning, native style flutes and drums, stringed instruments, singing bowls and gongs are used throughout. For the complete vibrational experience listen to all tracks in order.  For particular areas of focus, listen to each track individually.
Alzaltel (Earth's Inner Sun) ROOT
Halls of Amenti SACRAL
Goddess of the Flame SOLAR PLEXUS
Lemurian Waves HEART
Caduceus Rising THROAT
Song of Sirius THIRD EYE
Divine Aeon CROWN
JIM CASH flutes, guitars, keyboards, vocals
ASHLEY CASH vocals, drums, percussion, singing bowls, wind gong
NATURE SOUNDS field recorded by Jim and Ashely EXCEPT whale from soundbible.com
Composed, Produced, Engineered, and Mastered by Jim and Ashley Cash at their studio in Sterling, Virginia
©2019 Starseed Global Publishing
All rights Reserved
wovengreenmusic.com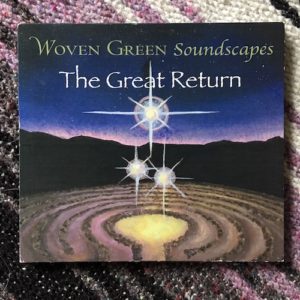 The Great Return
is a shamanic voyage through sound and music.  Each track is designed to guide the listener on a journey within.
For the complete journey, listen to all tracks in order. Binaural beats and sonic vibrational healing frequencies are present throughout each track.
Theta brainwave states (deep meditation) are common when listening to these frequencies.
1. Miakoda (22:09) – a Native American word meaning "the power of the moon." Recorded during the Super Blue Blood Moon in January 2018.
2. Wolf Moon (10:06) – A continuation of the moon energy which calls upon the spirit of the wolf, a powerful ally guiding you towards the teacher within.
3. Upon Arrival (9:07) – This soundscape is intended to both cleanse and activate the etheric body, preparing for entry into mystical realms.
4. Temple of White Tara (10:07) – An invocation of White Tara, the goddess and bodhisattva of compassion and the reliever of suffering.  White Tara is also associated with the moon.
5. Shadowlight (10:56) – This soundscape plays between major and minor keys in juxtaposing moods of shadow and light, creating a dynamic interplay that is designed to bring the listener into wholeness.
6. Chozen (15:56) –  Is a Buddhist word meaning "clear transparent meditation practice."  This zenful track encourages the honoring of sacred space and the ritual "return" back to source.
JIM CASH flutes, guitars, keyboards, vocals, drums
ASHLEY CASH vocals, drums, percussion, singing bowls, wind gong
NATURE SOUNDS night sounds, barred owl, birds, wind and water recorded in Sterling, Virginia
Wolf and coyote sound recordings from soundbible.com
Composed, Produced, Engineered, and Mastered by
Jim and Ashley Cash
© 2018  Starseed Global Publishing
All Rights Reserved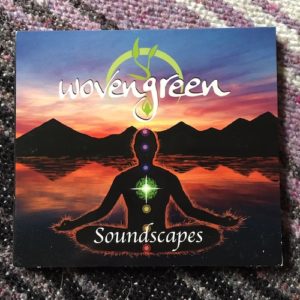 Woven Green 
Soundscapes
are designed to restore resonance in mind, body, and spirit. Using specific sound frequencies, each track guides the listener into theta brainwave states, which are proven to help reduce stress, awaken intuition, enhance creativity, and promote an overall expanded state of consciousness and well-being.  Soundscapes include various flutes, quartz crystal and Tibetan singing bowls, stringed instruments, nature sounds, vocal toning, native drumming, percussion, crystal pyramids, and ambient keyboards.
Dream Pond (19:49)
Galadriel's Garden (18:34)
Ancient Sand (19:00)
Ocean Angels (22:12)
Composed, Produced, Engineered, and Mastered
by Jim Cash and Ashley Cash
© 2015 Starseed Global Publishing
All Rights Reserved